2023 BMW M2 G87 – Rendered Again
The famous BMW M2 G87 has been rendered again, now coming with some actual proof of what it could look like.
It's hard to think about something scarier than a BMW M2 with a straight-six engine, paired with a six-speed manual and a driver craving adrenaline. It's the second time this beast has been spied, and we think, the second generation M2 G87 will be just as entertaining or even more than the first-generation M2, all of that thanks to the famous S58 twin-turbo engine which is shared with the M3 and the M4 making this 3 liter may be more reliable than it seems.
Leaked images of the front bumper and the kidney grilles of the new M2 G87 have been scattered around the internet and have already been processed by experts and rendered as looking pretty aggressive overall. We aren't sure if this is how the M2 G87 will look upon release, but it certainly gave some car enthusiasts hope.
Regardless of how this car looks, the Germans will definitely sell a bunch of these cars, mainly because it basically holds the power of an M4 in a way smaller chassis with a smaller footprint, probably even better at some tasks than the M4, for example taking sharp corners at high speeds in this beauty will certainly feel amazing.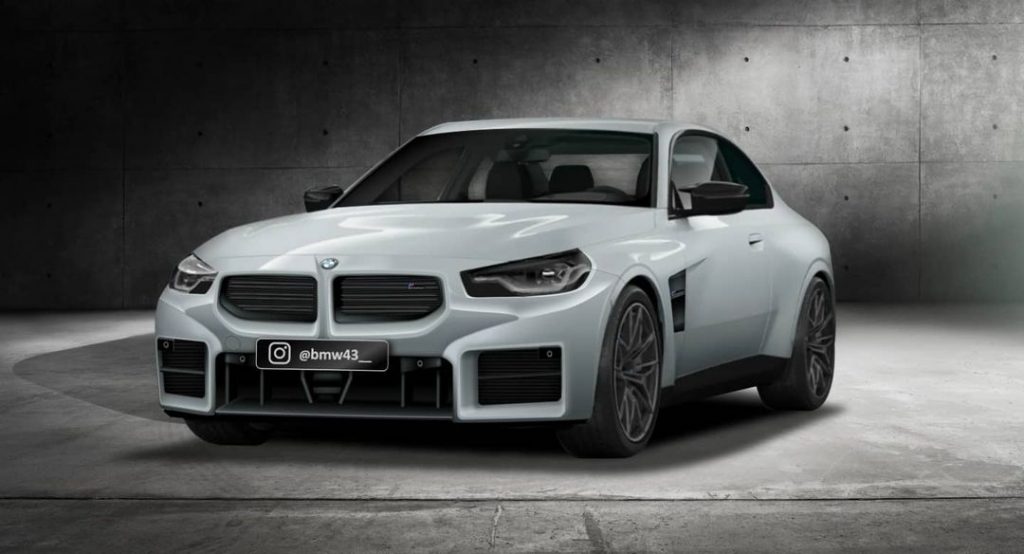 On the settings, we've talked about with the S58 twin-turbo, six-speed manual, and a smaller footprint than its bigger brother, we can assure everyone this is going to outperform the 2 Series Coupe M240i RWD. This beauty is rumored to enter production in December 2022 and get released the next year as the 2023 model. Prices might undercut the price of the M4 Coupe which stands at $71,900, and the M3 Sedan at $69,900, the only M2 available now for sale being the first generation M2 Competition which retails from $58,900 packing about 405 horsepower and finishing the 0 – 60 runs in 4.2 seconds.
Either way, the front bumper leak was a game-changer in the render world, changing the aspect of what the designers had in mind, with something completely different, something innovative, something different from the other M Division cars.
Overall the car seems to look way different from its predecessors but in a good way. BMW started approaching a different style out of their comfort zone, and most of the fans already seem to like it, even if it's still just a rendering and nothing is set in stone.