2022 BMW iX – World Debut at The 2021 Chicago Auto Show
The Germans will join the EV market with their brand-new crossover BMW iX, which is basically the size of a BMW X5 turned into a 4-door wagon that is capable of seating 5 people with ease.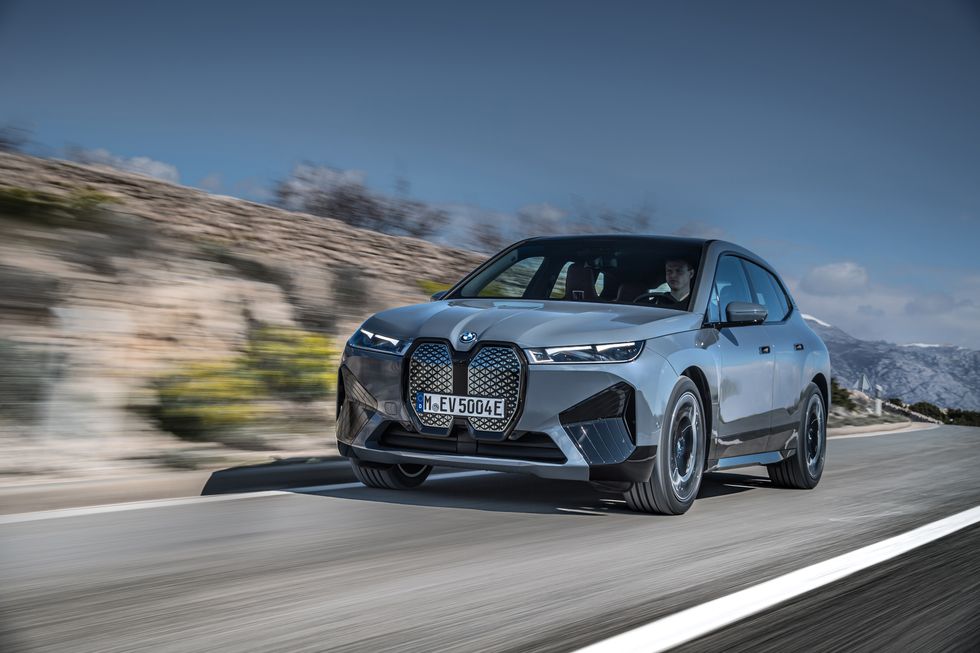 This new crossover will have a starting price of $83,200 and is scheduled to go on sale in the first quarter of 2022, but unlike most conventional vehicles, the BMW iX has an aluminum space frame that includes high-strength steel and fiber-reinforced thermoplastics to create a strong and lightweight chassis, helping it overcome older rivals including the Tesla Model Y, the Polestar 2, KIA EV6, Volkswagen ID.4 and more others.
The motors used in this beast will have a total output of 516 horsepower combined from one electric motor on each axle, for a total of 2 motors. The Germans claim that this vehicle can run from 0 to 60 MPH in barely 4.6 seconds. The motors are powered by a huge 106.3 kWh battery even bigger than the battery pack you will find in a Tesla Model X, which will offer about 300 miles of range.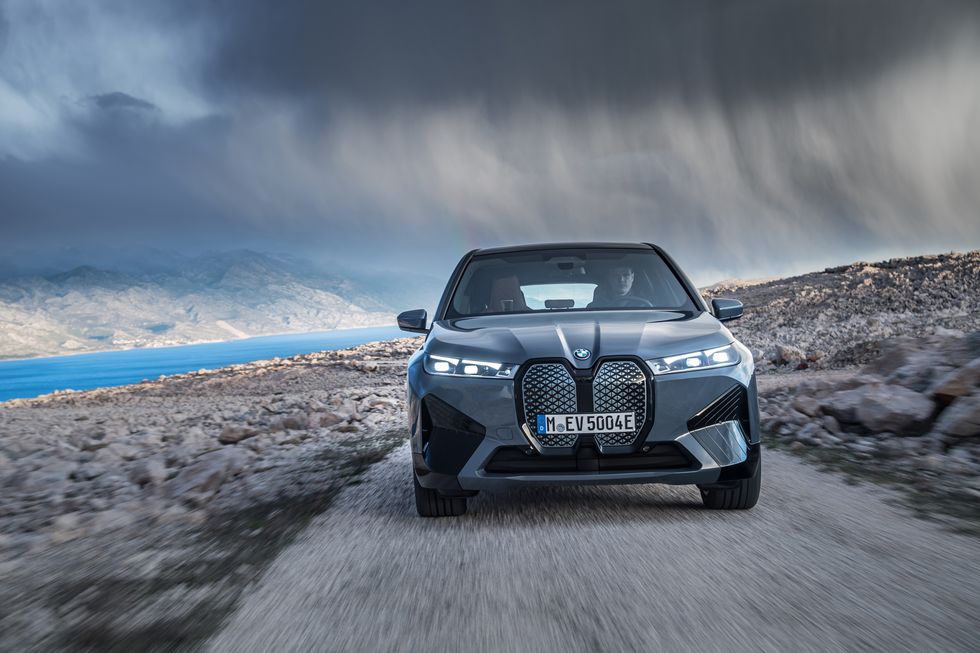 The inside of the iX is also looking pretty good featuring a panoramic sunroof with an electro-chromatic dimmer, making it possible to change from opaque to transparent at the push of a button, all the comfort you could imagine, heated steering wheel, heated center armrest, and other elements in the glove compartment and the door panels are also heated. For infotainment, they opted for a 14.9-inch central display with BMW's iDrive system and a 12.3-inch digital dashboard which gives you more than enough information and access to technology to control absolutely everything in the car, and it also comes with an amazing 18-speaker audio system additionally being upgradeable to a better one for a 30-speaker audio system from Bower & Wilkins.
Using a conventional Level 2 charger will charge the batteries completely in a total of 11 hours, but using a DC fast charger will be able to charge up to 90 miles of range in just 10 minutes, claiming to charge from 10-80% in around 35 minutes. BMW is also nice enough to give each owner of this beautiful vehicle 100$ of free credit when plugged into the EVgo charging network.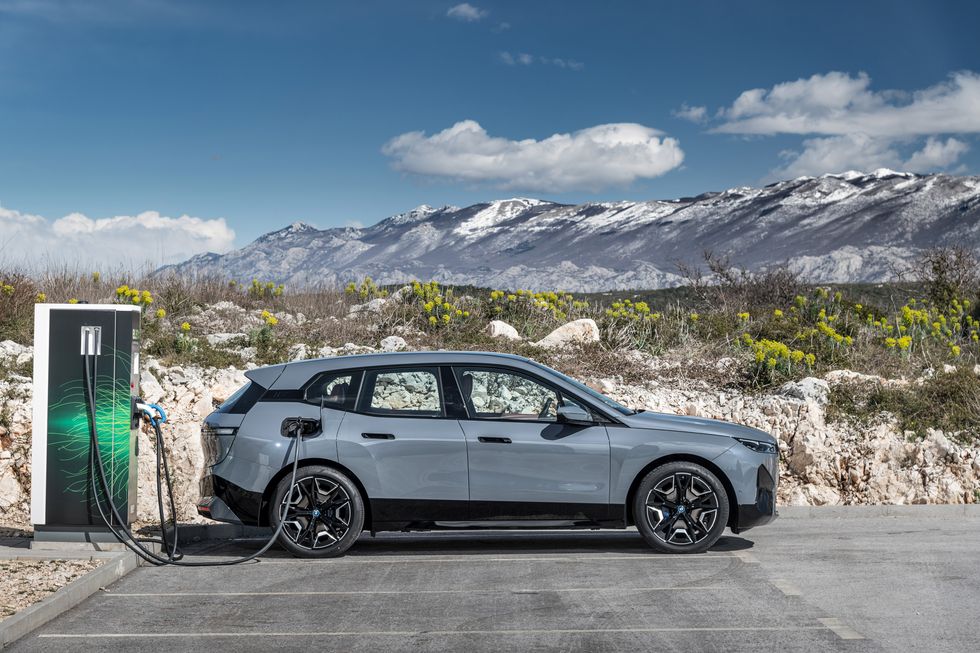 They claim the new BMW iX will not consume more than 22kWh / 100km combined, and it will also feature AWD, the trim being called xDrive50, later from launch they will also release an M60 which will offer up to 600 horsepower and will probably run from 0 to 60 MPH in less than 4 seconds, that being the model that most enthusiasts will be waiting for more than ever.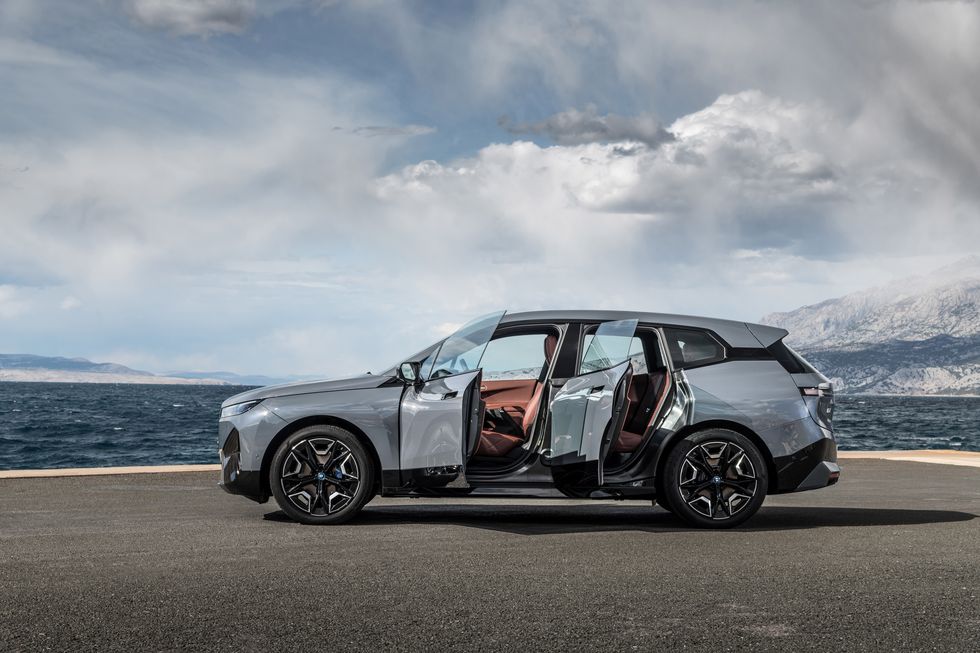 The beast crossover comes on 22-inch wheels designed and manufactured by BMW themselves and to be as eco-friendly as possible, being an EV it also comes with an interior wrapped in leather made out of recycled materials, to assure the customers that this vehicle is truly 100% pro-environment, not just another usual EV.
BMW iX Photo Gallery