BMW X6 M Tuned By Manhart – The 730 Horsepower Beast SUV!
One of the most impressive SUVs on the market has Manhart's signature on it and comes under the model of the already very powerful BMW X6 M Competition and weighing around 2,400 kg, but that doesn't affect power at all whatsoever.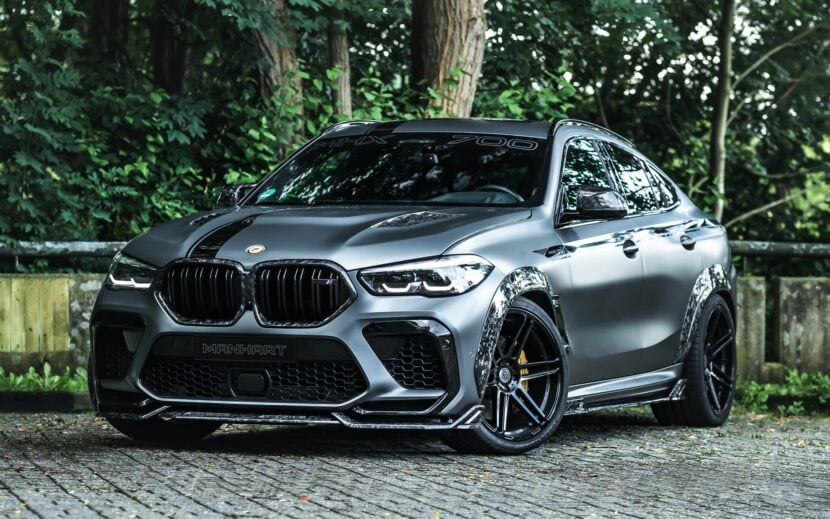 This mad project that Manhart has done with the X6 comes with a massive upgrade on the power side of things, the German tuner achieving 730 horsepower and 900 Nm (664 lb-ft) of torque, which is actually insane considering the size and the weight of this beast. The power spike was only achievable because MANHART used an MHtronik aux control unit with a good ECU remap.
MANHART also thought for a name for this insane SUV they created, it's called the MHX6 WB, everything on this car slowly turning from BMW to MANHART including the exhaust system, which definitely couldn't get any better than this, as the German tuner fitted a MANHART stainless steel exhaust system with valve-function and ceramic or carbon-coated tailpipes, offering even MANHART Race downpipes without catalytic converters and an OPF-Delete for export only.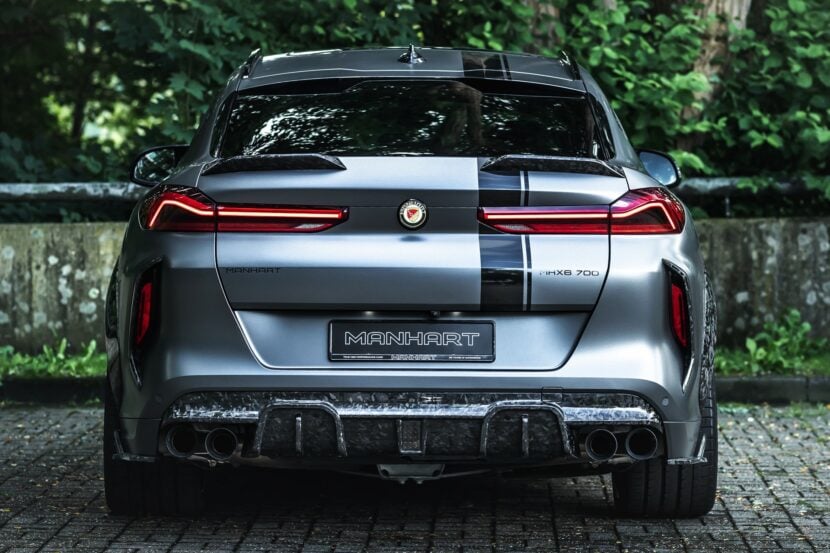 The WB in the name Manhart set for this car stands for WideBody some extra work is being applied to the BMW X6 body, getting a 24-piece widebody body kit made out of artistic forged carbon. The kit includes a full-body modification changing the front spoiler, the rear diffuser, radiator grille, two-part rear spoiler, side skirts, multipart wing extensions, and even an exterior mirror housing made out of forged carbon, the rest of the body being wrapped in a "Matte Charcoal Metallic" wrap, as they claim, with black contrasting Manhart decals.
It couldn't be a complete MANHART project without some amazing custom wheels from them, this one wearing a huge set of 22-inch MANHART Concave One double-spoke forged wheels in sating black to fill the forged carbon wheel arches from the bodykit, the exact specs of this rims being 11.5×22-inch in the front and 11.5×22-inch on the rear wrapped in 295/30R22 and 315/30R22 tires, while also being lowered by 30mm compared to the conventional X6 M Competition.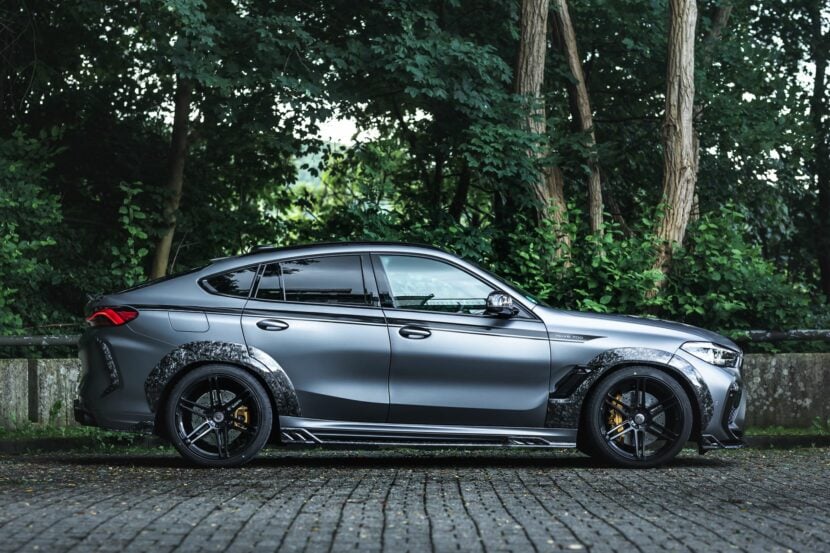 Brakes have been worked on too, coming with the standard MANHART MXH6 700 WB individual design for the multi-piston calipers, on request a customer can make individually configurable upgrades stated Manhart.
The interior is also stunning, the MANHART touch being very visible coming from a twelve-piece forged carbon interior kit which fits the car more than perfectly, combining the outside body kit with the inside. Even the inside trim has been modified, besides every other piece of interior that is no longer made out of plastic, but of forged carbon, giving it a unique look that makes this car differ from the conventional, and stand out in every possible aspect.
Overall is just another car that Manhart put their hands on to transform, and they've done a hell of a job on this monster, getting the most out of the engine and making the interior so unique you can barely recognize what car is under that tuning. MANHART debuted with this monster of an SUV at IAA Mobility 2021 in Munich in hall B4 at booth A60.