BMW M2 Competition by Manhart
When it comes to pushing the boundaries of performance in the world of BMW tuning Manhart Performance is known for its expertise. Their latest creation, the Manhart MH2 700 based on the F87 M2 Competition is a powerhouse that sets standards, for compact sports cars. With a power output of 894kW (1200 horsepower), this beast showcases Manhart's unwavering dedication to delivering raw power and exhilarating driving experiences.
Introducing the MH2 700
Manhart has a strong passion for enhancing BMW's compact sports cars. The year they introduced the MH2, which significantly increased power from 302kW to 463kW and torque from 550Nm to 750Nm, was the starting point for tuners to add more and more upgrades to the model.
Performance Upgrades
The Manhart MH2 700 named to signify its power has captivated enthusiasts worldwide. This remarkable tuning masterpiece revolves around a BMW turbocharged inline six-cylinder engine with a displacement of 3.0 litres. While Manhart possesses the capability to achieve power levels with this engine they have chosen to limit it to an impressive yet reliable output of 525kW (710 hp) and torque of 815Nm. This decision demonstrates their commitment, to ensuring the car's longevity and dependability.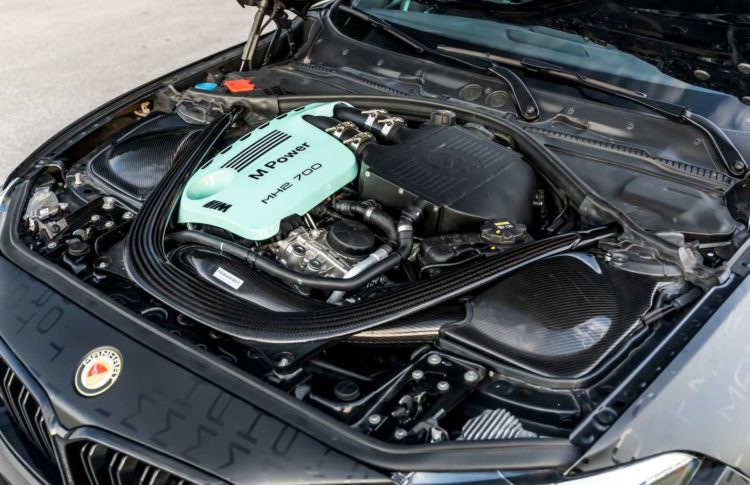 The transformation process begins with the installation of custom turbochargers. The MH2 700 boasts crafted components, including an intercooler, water cooler, carbon intake and aluminium charge pipes. These upgrades lay the foundation, for the increased power of the MH2 700. Manhart didn't stop at enhancing the engine; they also equipped it with an upgraded crank hub and a heavy-duty clutch to handle the power. The engine control unit (ECU) receives a software tune to optimize its performance in sync with these enhancements. To ensure that all this power is effectively transmitted to the wheels Manhart added their Drexler differential for an exhilarating and precise driving experience.
High-Performance Systems
But it's not just about power – the Manhart MH2 700 delivers a performance package. Underneath its exterior, you'll find V3 Clubsport three-way coil overs from KW that strike the balance, between daily driving comfort and track-ready performance.
The braking system has also undergone improvements. It now features a high-performance brake kit with six-piston callipers borrowed from the F82 M4 GT4 upfront. These powerful callipers grip onto 395x34mm discs at the four-piston callipers secure 380mm discs at the rear. For those seeking braking performance, Manhart offers carbon discs as an optional upgrade.
Engine Sound
The Manhart MH2 700 is not, only about its performance; it also boasts a captivating sound. Equipped with a stainless steel exhaust system that includes valves and race downpipes the car produces an exhaust note that perfectly matches its capabilities. However, it's worth noting that due to the inclusion of an OPF delete, which involves stainless steel pipes with 300 cell converters the MH2 700 cannot be sold in Germany where it originates from.
Exterior Tweaks
As for its design, the MH2 700 receives a carbon fibre treatment. It features a carbon fibre wing that not only adds to its visual appeal but also improves aerodynamics. Additionally, carbon fibre elements such as the bonnet, splitter and side skirts complete the package giving the car a purposeful appearance.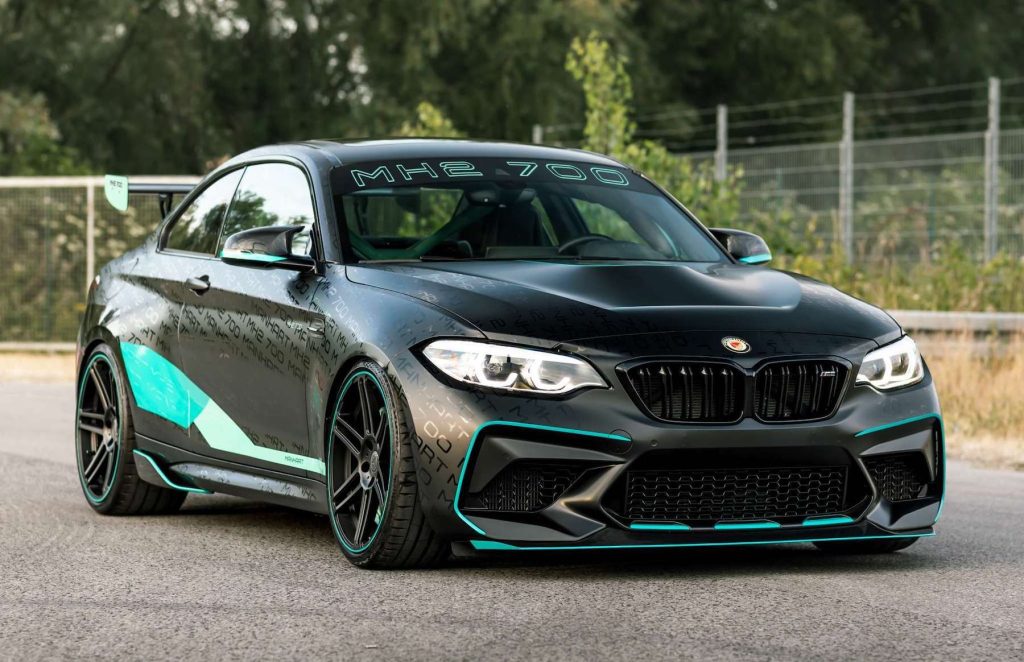 Interior Tweaks
Inside the cabin of the Manhart MH2 700 priority is given to the driver's experience and connection, with the vehicle. The presence of Recaro Sportster CS bucket seats ensures that drivers are securely held in place during driving sessions. To further enhance safety and performance aspects an integrated Clubsport roll bar is included in the design.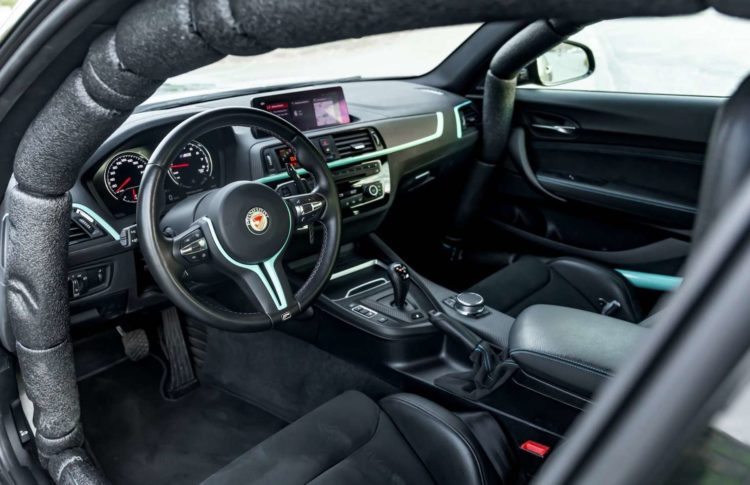 To complement the eye-catching exterior the cabin features accents in mint green, which bring a touch of style and create a captivating contrast.
BMW M2 Competition Media Gallery